statera.com Review:
statera
- How do I better engage with my customers?   How can I innovate my business?   How do I make sense of my data? Am I achieving the most through my projects?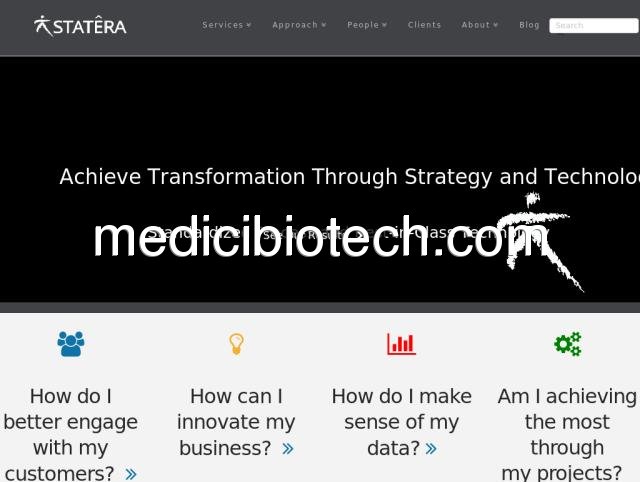 http://statera.com/services/ Statera Services - Services Applications Analytics Transformation Integration Collaboration Talent
http://statera.com/services/applications/ Statera Applications - Business Applications Business applications provide an engine for growth for today's enterprise.  At Statêra, we believe these business applications should
http://statera.com/services/analytics/ Statera Analytics - Analytics Business Intelligence is about surfacing business critical data. There are a wide variety of platforms that will deliver the data to you; the har
http://statera.com/services/transformation/ Statera Services: Transformation - Transformation Businesses are continuously transforming to be more proactive, efficient, and adaptable to market changes. Statêra's Business Transformation
http://statera.com/services/integration/ Statera Integration Services - Integration and Customization Fitting all of the puzzle pieces together makes for a complete picture.  Statêra builds and implements the puzzle pieces of y
http://statera.com/services/collaboration/ Statera Collaboration Services - Collaboration Collaboration between employees, partners, and customers drives  increased engagement and productivity. Statêra's collaboration practice buil
http://statera.com/people/talent/ Statera People: Talent - Talent At the core of every Statêra solution is the talented people that make it happen. We recruit the top 1% in expertise and we search for people that m
http://statera.com/approach/ Statera Approach - The Statêra Approach We achieve success for each client by focusing tirelessly on process over platform and talent over technology with our time-tested, pr
http://statera.com/approach/strategize/ Statera Approach: Strategize - Strategize "Every business vision needs strategy, tactics and actions to succeed." - Carl Fitch, CEO Before you can accomplish any business objective, you
http://statera.com/approach/build/ Statera Build - Build Statêra is about finding solutions for our clients that create a one-of-a-kind competitive advantage. – Bill Gilbert, VP The only way to maintain and
http://statera.com/approach/implement/ Statera Approach: Implement - Implement Successful system and platform implementations often stretch internal resources beyond their potential. Statêra helps our clients exceed their po
http://statera.com/approach/optimize/ Statera Approach: Optimize - Optimize "Enabling cost effective business outcomes requires constant management and optimization." – Dennis Shipman, VP Not only can Statêra strategize, i
http://statera.com/people/our-culture/ Statera: Our Culture - Our Culture "I love how we not only get to do good work, but we work at doing good.  Every month there are volunteer activities organized so we can give ba
http://statera.com/people/alumni/ - Statêra - Statêra AlumniThe Statêra Legacy Welcome to the Statêra Alumni Page! We're committed to our team, and to keeping in touch with our former colleagues and fr
http://statera.com/about/strategic-partners/ Statera About Us: Strategic Partners - Strategic Partners Clearly a market leader in the shift to the cloud, salesforce.com has four product lines that we have successfully implemented for our c
http://statera.com/about/strategic-partners/salesforce-partnership/ Statera About Us: SalesForce Partnership - Salesforce Partnership More than software or technology - CRM is a holistic strategy aligning people, processes and technology to cultivate stronger, more
http://statera.com/about/strategic-partners/apttus-partnership/ Statera Partnership: Apptus - Apttus Partnership  Apttus offers best-in-class Configure-Price-Quote (CPQ), Contract Lifecycle Management (CLM) and Revenue Solutions, fully integrated wi
---
Country: 54.149.109.187, North America, US
City: -119.688 Oregon, United States
Amazon Customer - Do not order your coffee online from here if you enjoy flavor

I love Casi Cielo. I ordered this thinking I would get the same great coffee I get in the store. Wrong, this had no flavor and was not fresh. I will never order this coffee online again.
Ed C - Good Irons Poor Grips

This is a good set of irons. Don't believe the hype about extra distance and all that. I am a 10 handicap and have used 4 different sets of irons over the past 25 years. Iron technology does make clubs more forgiving not longer. What makes clubs longer is the fact that club manufacturers gradually decrease the loft of the pitch thru 4 iron, therefore making them longer. That's why all club sets come with gap wedges now when there was no such thing 20 years ago. Now the standard loft on a pitch is drastically different than that of a sandy so manufactures had to bridge the gap. No pun intended. All that being said these clubs set up nicely, they are solid even high on the club face and out on the toe, 2 of my favorite places to strike the ball on a bad day. The grips are sorry. The worst i have ever seen. They are paper thin and you better have a couple of newish gloves if you play in high humidity especially in the mornings. Best thing you can do is anticipate having to buy new grips right off unless you play in a low humidity type of environment or never get them wet at all. I already replaced mine with Golf Pride half cords and I haven't had the clubs for a month yet. If you are using an older set of irons or are thinking of changing from blades to cavity backs you will see a difference in the distance because of what I said before but you will definitely be happy with the extra margin for error you get with the perimeter weighting these clubs offer. I would have rated these clubs higher if not for the POS grips Nike used.
Purplmyst - I'm riding a lion!

I ordered the "standard" size, and I'll say that at 5'8" that's the tallest you can be for this to fit properly. Seems to be put together very well, and the drink holder is definitely a bonus! Only negative point on this is that the poor lion doesn't have a tail.
Maria Baskett - A great deep moisturizer/intensive treatment for dry hair

I have been using this masque for a couple of weeks now, along with Pura D'or anti-hair loss shampoo. I have found, over time, that the active ingredients in anti-hair loss shampoos tend to really dry out my already dry, fine, damaged hair, but I had a great experience with the Pura D'or hair growth serum, so I was really excited to have the chance to try this product! The masque comes in 8 separate little 1.5-ounce envelopes, each packaged in a box with a shower cap. 1.5 ounces of deep conditioner is a LOT; enough for almost four uses for me (I have barely shoulder-length hair and there's not much of it). The cap is there to "lock in" the moisture while you use the masque for five minutes, or longer if you like. The masque smells very nice - fresh, slightly minty; a lot like the shampoo. I used the cap the first few times, but now I just put the masque on - it's very thick and not drippy at all, so I don't really need the cap to keep it in my hair. This conditioner rinses very cleanly and leaves my hair silky, which is a big deal because my hair is NEVER silky; it's more like straw most of the time, haha! It does seem to counteract some of the drying effects of the shampoo. My hair gets tangled easily and this masque helps make it smoother. Anyway, I like this stuff and have been using it 4 or 5 days a week. I have to wash my hair daily or it will get greasy, and I have to condition it daily or it will get dry - such fun.......but this masque is a little heavy for everyday use on hair as fine as mine is. I don't know if it's helping with hair loss or not; it's difficult to determine that because I am also using Pura D'or shampoo. This is a lovely product, even if it is a bit pricey. I received this masque at a discount in exchange for my honest review.